Just to share my 3D2N trip to perhentian from 17th-19th July:
1) I got my almost FOC AA tickets last year..RM0 + tax & handling cost us RM60 return/pax to Kota Bahru..

2) Once reaching KB airport, Airport taxi to Kuala Besut fixed at RM78

. Decided to walk out from the terminal. Kereta sapu waiting for biz..the best still RM60 to K.Besut.
3) 1hr later arrived at K.Besut. Ferry cost RM35/pax/1way, children RM20. It only took 1/2hr to Perhentian from Besut...speeding at an avg 58km/hr according to my GPS reading. Max..~67km/hr
4) Stayed at Abdul chalet beside Perhentian marine park. Beach front Deluxe air-con bungalow chalet at RM180/nite. Cheaper options ~RM100/nite (garden view no aircon) also available
5) Lunch - Food abit pricey but still OK- RM7/plate of fried rice/noodle/tom yum, RM3 per 1.5ltr mineral water.
6) Seafood dinner is very reasonable- small baracuda -RM12, sambal sotong -RM10 & mix vege curry -RM6. Plain rice abit pricey at RM2/plate!
7) Snorkeling trip per pax available beside marine park on the way to tuna Bay (Super cheap RM30/pax for 4 locations inc of snorkeling gear & drink. + children ,12 FOC)
8) I was told direct buses available from K Besut to Kota bahru..due to time constraint, I opted for taxi & shared wth another couple for RM50 (Rm10/pax) all the way to KB Pasar Siti Khadijah)...

Cheaper than taxi from airport to K.Besut!!
9) I only managed to visit Siti Khadijah market & lunch there before taking another taxi sapu at RM12 to airport....
10) Overall..lotsa bikinis, 90% of Perhentian Besar tourist are caucasian - I think probably the largets Mat Salleh tourist in whole malaysia BUT no topless

Here's abit of photo sharing:
1) Marine park perhentian near to Abdul Chalet: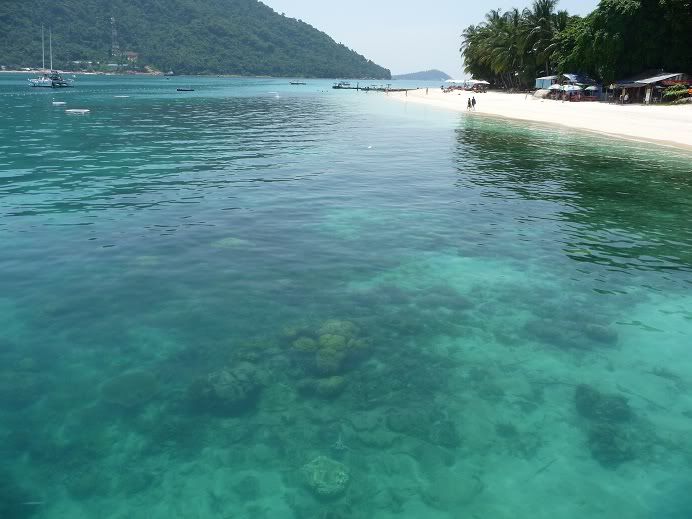 2) JD Palace chalet beach front from the rocks at the end of Abdul's chalet & JD Palace hilltop chalet:
3) KK [point scenic rock & almost deserted beach without any tourist....so quiet here:
4) Siti Khadijah wet & dry market complex: