Moderators: Moderators, Regional Mappers
Forum rules
1. Be nice to each other and respect the moderators. Post in normal font size, color and weight. Follow
Nettiquette
2. NO abuse, profanity and insults
3. NO debate on political, religious, racial and sexual matters
4. NO pornographic or nudity picture/video
5. NO spamming, cross posting and opening of duplicate topics
6. NO advertisement post or link
7. NO post/link to warez, cracks, serials or illegally obtained copyrighted content
8. Each message posted is owned by and is the opinion of the original poster. Neither mfm nor its owner or moderators are legally responsible for anything posted on the forum.
GUYS AND GALS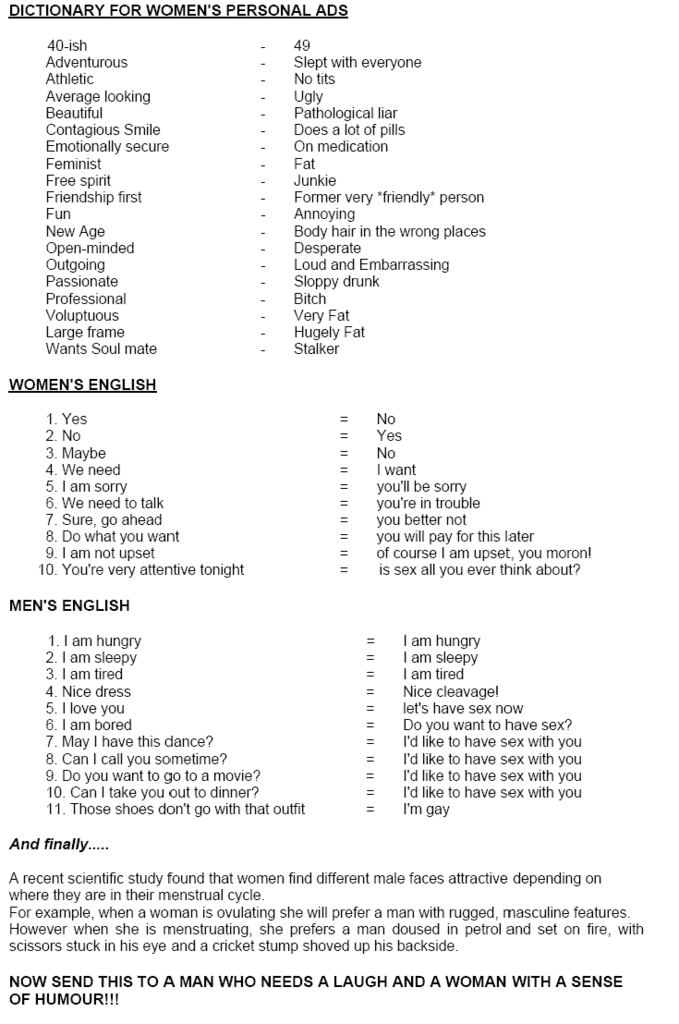 Last edited by
kissnight
on Mon Sep 22, 2008 3:54 pm, edited 1 time in total.
sista kissnight
---
BABY'S FIRST DOCTOR VISIT

A woman and a baby were in the doctor's examining room, waiting for the doctor to come in for the baby's first exam.

The doctor arrived, and examined the baby, checked his weight, and being a little concerned, asked if the baby was breast-fed or bottle-fed?

"Breast-fed," she replied.

"Well, strip down to your waist," the doctor ordered. She did.

He pinched her nipples, pressed, kneaded, and rubbed both breasts for a while in a very professional and detailed examination.

Motioning to her to get dressed, the doctor said, "No wonder this baby is underweight. You don't have any milk. "

"I know," she said, "I'm his Grandma, but I'm glad I came."





sista kissnight
---
ELDERLY WOES ... [ SENIORS GIVING BIRTH ]
With all the new technology regarding fertility recently, a 65-year-old woman was able to give birth to a baby.

When she was discharged from the hospital and went home, her relatives came to visit.

"May we see the new baby?" one asked.
"Not yet," said the mother. "I'll make coffee and we can visit for awhile first."

Thirty minutes had passed, and another.
Relative asked, "May we see the new baby now?"
"No, not yet," said the mother.

After another few minutes had elapsed, they asked again, "May we see the baby now?"
"No, not yet," replied the mother.

Growing very impatient, they asked, "Well, when can we see the baby?"
"WHEN HE CRIES!" she told them.

"WHEN HE CRIES?" they demanded. "Why do we have to wait until he cries?"

"BECAUSE I FORGOT WHERE I PUT HIM. O.K. ?????"





sista kissnight
---
ARE THEY TWINS ???
One very loud, unattractive, hard-faced woman walks into Kmart with her two kids in tow, screaming obscenities at them all the way through the entrance.

The door greeter says, "Good morning and welcome to Kmart, nice children you've got there. Are they twins ?"

The fat ugly woman stops screaming long enough to snarl: "Of course they bloody aren't !
The oldest is nine and the youngest is seven.
Why the hell would you think they're twins ? ......
Do you really think they look alike, you d*ckhead ?"

"Absolutely not," replies the greeter, "I just can't believe anyone would f*ck you twice !"



sista kissnight
---
THE SURROGATE FATHER
The Smiths were unable to conceive children and decided to use a surrogate father to start their family.

On the day the proxy father was to arrive, Mr. Smith kissed his wife goodbye and said, 'Well, I'm off now. The man should be here soon.'

Half an hour later, just by chance, a door-to-door baby photographer happened to ring the doorbell, hoping to make a sale.
'Good morning, Ma'am', he said, 'I've come to...'

'Oh, no need to explain,' Mrs. Smith cut in, embarrassed, 'I've been expecting you.'

'Have you really?' said the photographer. 'Well, that's good. Did you know babies are my specialty?'

'Well that's what my husband and I had hoped. Please come in and have a seat'.

After a moment she asked, blushing, 'Well, where do we start?'

'Leave everything to me. I usually try two in the bathtub, one on the couch, and perhaps a couple on the bed. And sometimes the living room floor is fun. You can really spread out there.'

'Bathtub, living room floor? No wonder it didn't work out for Harry and me!'

'Well, Ma'am, none of us can guarantee a good one every time. But if we try several different positions and I shoot from six or seven angles, I'm sure you'll be pleased with the results.'

'My, that's a lot!', gasped Mrs. Smith.

'Ma'am, in my line of work a man has to take his time. I'd love to be In and out in five minutes, but I'm sure you'd be disappointed with that.'

'Don't I know it,' said Mrs. Smith quietly.

The photographer opened his briefcase and pulled out a portfolio of his baby pictures. 'This was done on the top of a bus,' he said.

'Oh, my God!' Mrs.. Smith exclaimed, grasping at her throat.

'And these twins turned out exceptionally well - when you consider their mother was so difficult to work with.'

'She was difficult?' asked Mrs. Smith.

'Yes, I'm afraid so. I finally had to take her to the park to get the job done right. People were crowding around four and five deep to get a good look'

'Four and five deep?' said Mrs. Smith, her eyes wide with amazement.

'Yes', the photographer replied. 'And for more than three hours, too. The mother was constantly squealing and yelling - I could hardly concentrate, and when darkness approached I had to rush my shots. Finally, when the squirrels began nibbling on my equipment, I just had to pack it all in.'

Mrs. Smith leaned forward. 'Do you mean they actually chewed on your, uh...equipment?'

'It's true, Ma'am, yes.. Well, if you're ready, I'll set-up my tripod and we can get to work right away.'

'Tripod?'

'Oh yes, Ma'am. I need to use a tripod to rest my Canon on. It's much too big to be held in the hand very long.'

Mrs. Smith fainted !!!



sista kissnight
---
MY VERY FIRST TIME.....
It was my first time ever,
And I'll never forget.

I'd do it again
Without a single regret.

The sky was dark,
The moon was high,

We were all alone:
Just she and I.

Her hair was soft,
Her eyes were blue,

I knew just what
She wanted to do.

Her skin so soft,
Her legs so fine,

I ran my fingers
Down her spine.

I didn't know how
But I tried my best,

I started by placing
My hands on her breast.

I remember my fear,
My fast beating heart,

But slowly she spread
Her legs apart.

And when I did it,
I felt no shame;

All at once
The white stuff came.

At last it's finished,

It's all over now.

My first time ever
At milking a cow...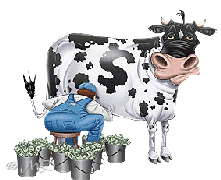 sista kissnight
---
TWO PROSTITUTES
Two prostitutes were riding around town with a sign on top of their car which said:
"TWO PROSTITUTES — $50.00."

A policeman, seeing the sign, stopped them and told them they'd either have to remove the sign or go to jail.

Just at that time, another car passed with a sign saying: "JESUS SAVES."

One of the girls asked the cop, "Why don't you stop them?!"

"Well, that's a little different," the cop smiled. "Their sign pertains to religion."

So the two ladies of the night frowned as they took their sign down and drove off.

The following day found the same cop in the area when he noticed the two ladies driving around with a large sign on their car again.

Figuring he had an easy bust, he began to catch up with them when he noticed the new sign which read:

"TWO ANGELS SEEKING PETER — $50.00."



sista kissnight
---
Posts: 601
Joined: Wed Sep 17, 2008 10:55 pm
Location: NL - Nuvi® 3790 SG/MY, 1490Tv, 775T, 650, 4980 & TTom GO 910 + 950 Live, GO 6000
Eh Eh Eh Sista, slowly la...... jangan lari lakas lakas ya ? blan Blan jadi.... wow ... my malayu not bad hor...

By the way, why name this MFM Official Jokes Thread huh ? How about MFM Joker's corner ? or Joker's Mamashop ? Weird to put a Official title to jokes leh... Anyway... Shoot ah !!!!

~

Cruiser

~
---
Site Admin (retired)
Posts: 1518
Joined: Sun Sep 14, 2008 11:42 am
Location: Acquiring satellites....
cruiser wrote:

Eh Eh Eh Sista, slowly la...... jangan lari lakas lakas ya ? blan Blan jadi.... wow ... my malayu not bad hor... By the way, why name this MFM Official Jokes Thread huh ? How about MFM Joker's corner ? or Joker's Mamashop ? Weird to put a Official title to jokes leh... Anyway... Shoot ah !!!!
U r right...bro

---
Valued Contributor
Posts: 2237
Joined: Wed Sep 17, 2008 10:53 am
Location: Penang - Nuvi 300, 205W, 2575RLM, M1200, M1000B/C, Papago N1
Sista,
Only One Joker in MFM meh?......

Got you!

Common Sense Is Not Common.
---
---
Who is online
Users browsing this forum: No registered users and 7 guests